SUPERPOWER Finsbury Park bring together young women from different walks of life to discuss their relationship with the city. The project explores the ability for technology to bring about female empowerment, and question our role as female in regards to decision making about our city.
The project consists of a series of workshop sessions that involve participants discussing about their relationship with the city, identifying common themes that ties to a place in Finsbury Park and using the themes to co-create a series of wearable devices that enable them to record their subjective perception of the city using gesture sensing technology, co-scripting them to be used for the exploration walk which involves them walking around specific area of Finsbury Park, performing and recording their subjective experience using the wearable devices that catalogued their gestures.
During the workshop, participants design body gestures using the wearable technology which track their body gestures and communicate remotely with each other through haptic/audio sensors.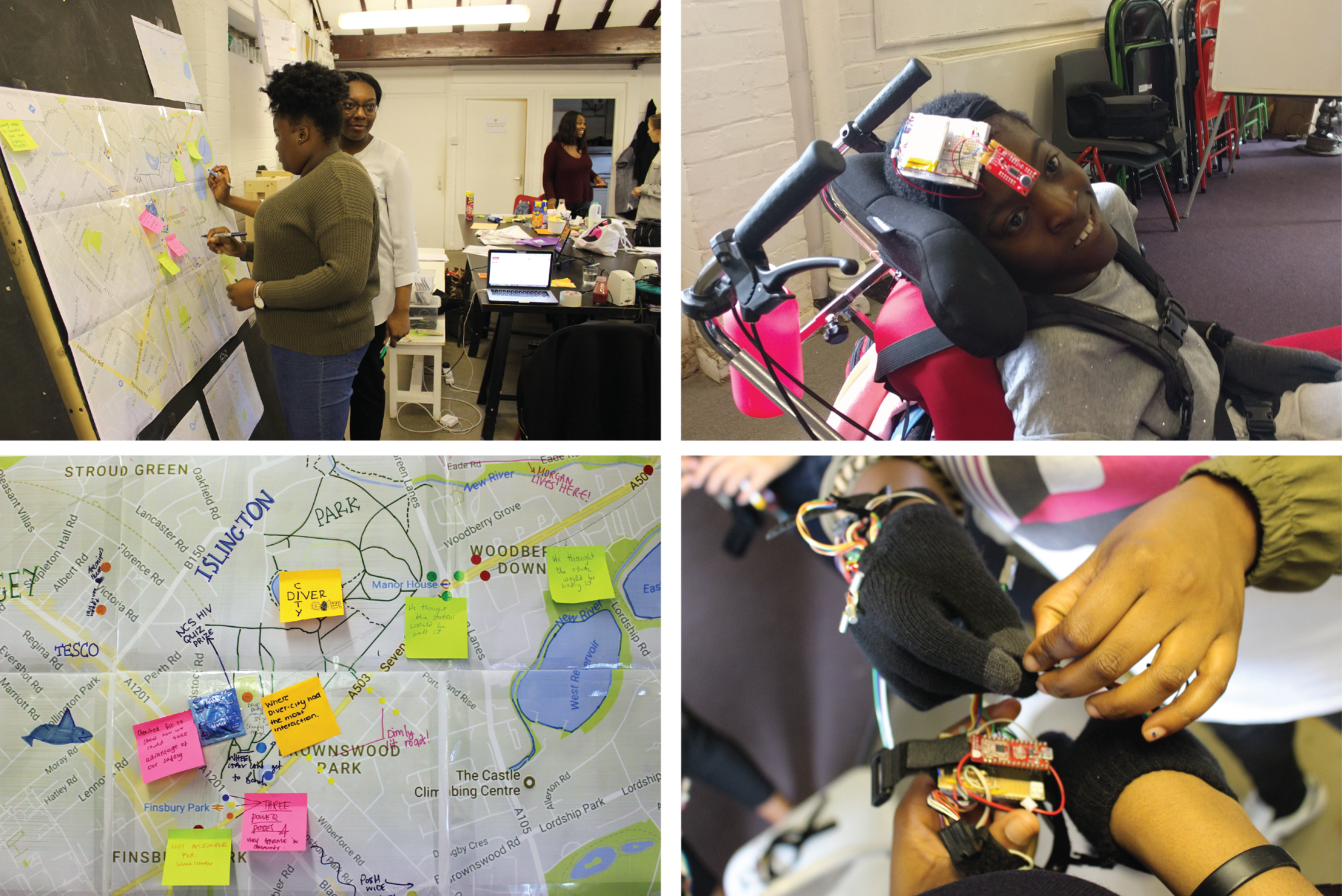 The 3 themes that participants collectively identify were:
1. Cultural Diversity and Inclusivity in our community
From the participants:
"We aimed to ask members of the community (Finsbury Park) one question about their opinion on the diversity in their local community using gestures on the glove. Connecting the gloves to the database and translated through a data-recording phone app, we used the technology to record their gestures into codes to demonstrate the level of cultural diversity. Many people were keen on our experiment as it's something that matters to our community. So happy to do something where locals are included using technology."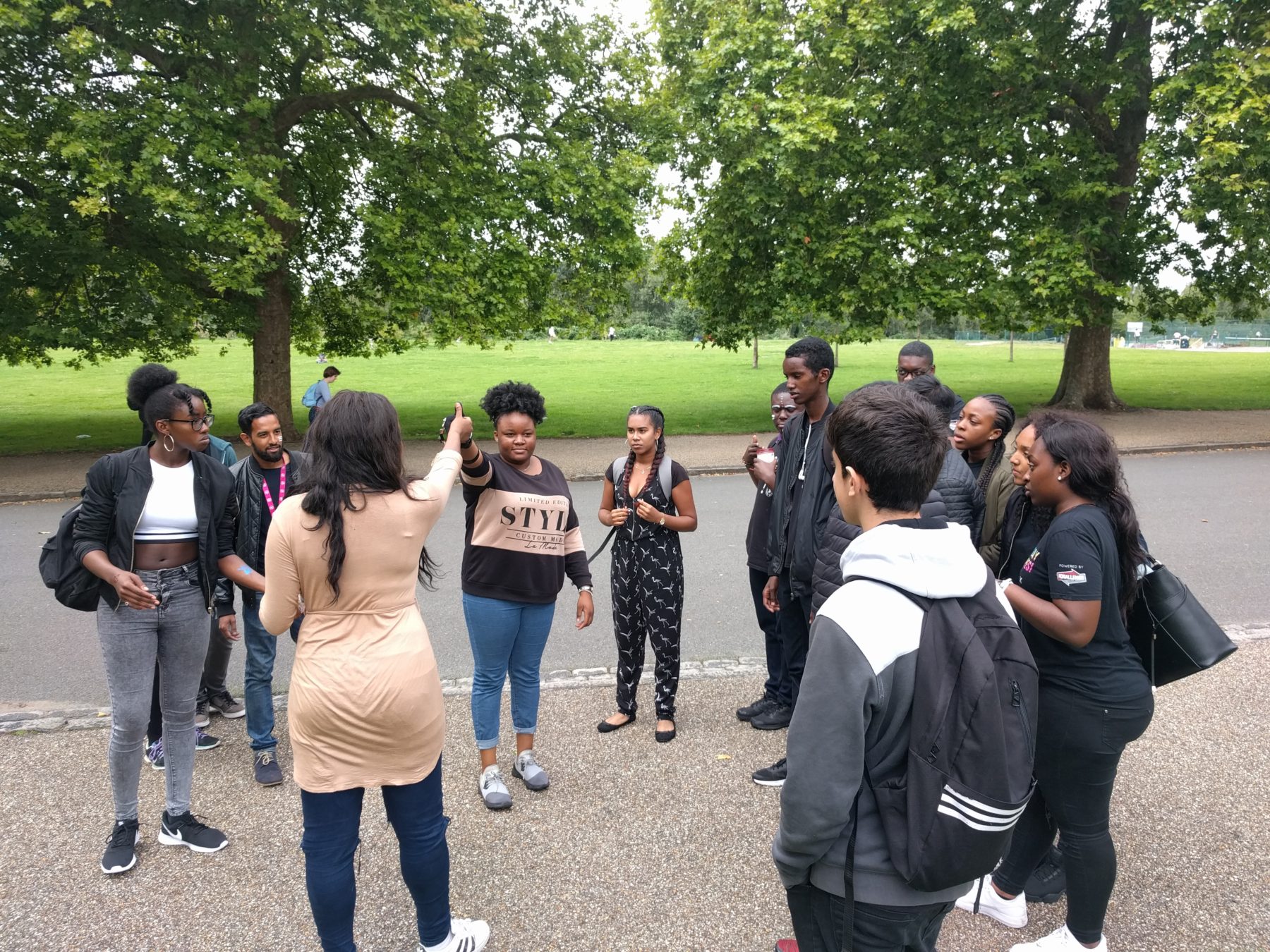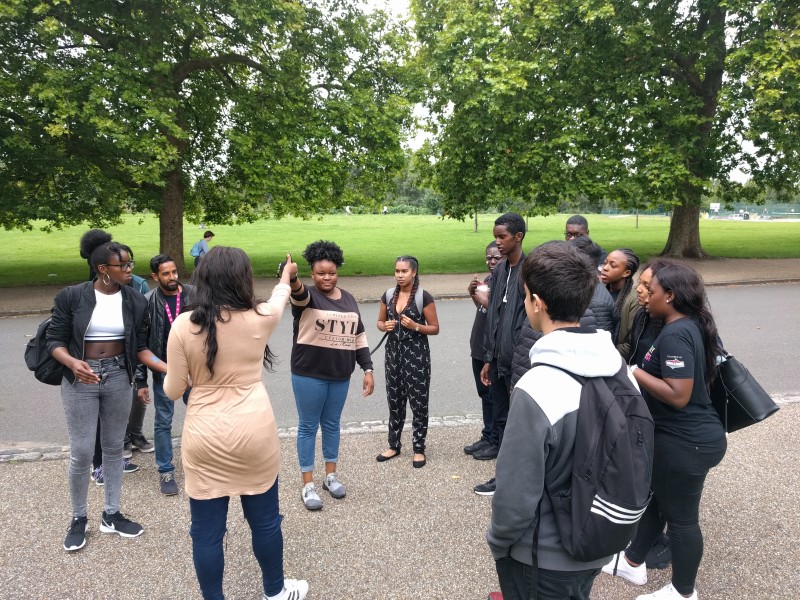 2. Safety of individuals in the London Borough of Islington
From the participants:
"Our idea came from the fact that personally the individuals in the group felt that it was an issue that needed to be addressed and since we were all taking part in the superpower project, wearable technology was a very interesting way of measuring safety. Our variables were how well lit an area was and in general how safe the area was. In the end we decided to go with how well lit an area is because safety as a whole is such a vast topic. We came up with three gestures: arm raised was well lit, arm halfway was okay lit and hand covering mouth was dimly lit. Moreover we did a trial phase where we tested our gestures through a prototype on excel and we were able to make a code."

3. Wheelchair accessibilty around Finsbury Park area
From the participants:
"I use wearable technology everyday to communicate, so it has really benefited me and been life changing. On the second day, Marta and I were in a team and using the device that Ling specially adapted for me to record my surroundings through noises, we went around Finsbury Park. Whenever I communicated whether the park was accessible, slightly accessible or not accessible at all, Marta would meet my sound with a gesture to create performance art. We discovered that the park is quite accessible overall."

SUPERPOWER Finsbury Park was a part of the B Creative Summer School, a programme of arts projects created by young women for young women aged 16 – 25 in Islington.
Special thanks to:
All the participants involved in the project
Peer leaders from All Change
Ella Medley Whitfield
Commissioned and supported by: Furtherfield and All Change



This project has been funded with the support from the European Commission. This communication reflects the views only of the author, and the Commission cannot be held responsible for any use which may be made of the information contained therein.