Featured in:Design Boom, The Creators Project, Dezeen, Wired, CNet, Protein, Fast Company, Trendhunter, Adafruit, Time & Space (Japan), PAGE magazine – April 2014 issue
Exhibited in: Coded Matter(s) Exhibition by FIBER Festival, Utopian Bodies: Fashion Looks Foward
Nominated in: 2013 Internet Of Things Awards: Best design fiction project
Reality Mediator is a series of experiments designed to question the extent to which human behaviour can be altered with wearable device or technological prostheses during interaction with, and inhabition of the environment.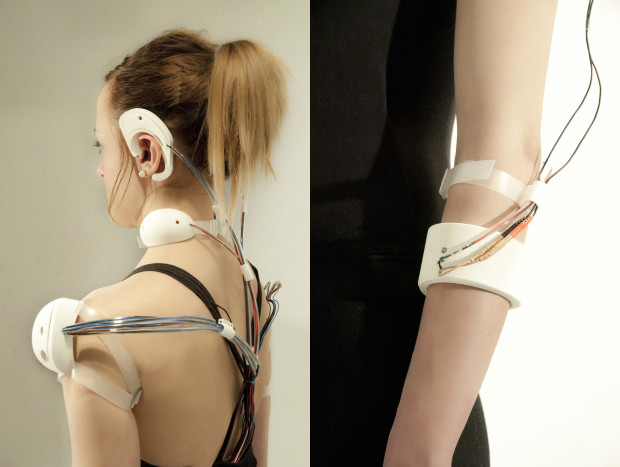 The project investigates the limits of human bearability towards wearable device as a new form of skin extension or technological prostheses found attached on the human body. When technology becomes invasive, questions of control between user and device will be raised. In the circularity, exchange of information sharing between human and machine, each with their own goal, there will be instances where machine dominance and human subservience can occur.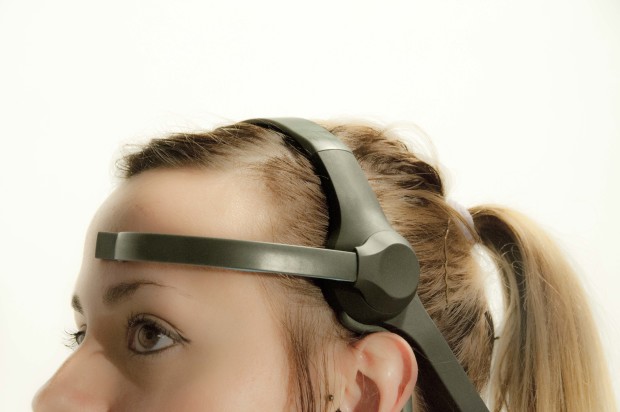 Reality Mediators consists of 3 sets of design experiments that seek to explore the degree of disruptiveness created by active goal-based wearable devices. The 3 sets of experiments consist of 3 different types of sensors, i.e. muscle sensor, brainwave sensing device and Global Positioning System (GPS). They are paired separately with 4 types of actuators, i.e. electrical muscle stimulation, sound actuators, heat pads and vibration motors, fitted onto different parts of the body. All the outputs create inherently unpleasant effect on the user so as to measure the level of obvious disruptiveness to user's everyday activities.
Each set of device is fitted onto the author's body for a duration of approximately 3 to 4 hours separately, to better understand the effect on human body. A few of the devices are also fitted on other users to compare the differences in experience. The observations are then recorded in the form of an anecdotal account, consisting of three key aspects to be measured:
(i) Level of disruptiveness to the user's everyday activities
(ii) Level of user awareness on own body condition and surrounding environment
(iii) Degree of comfort in wearing the devices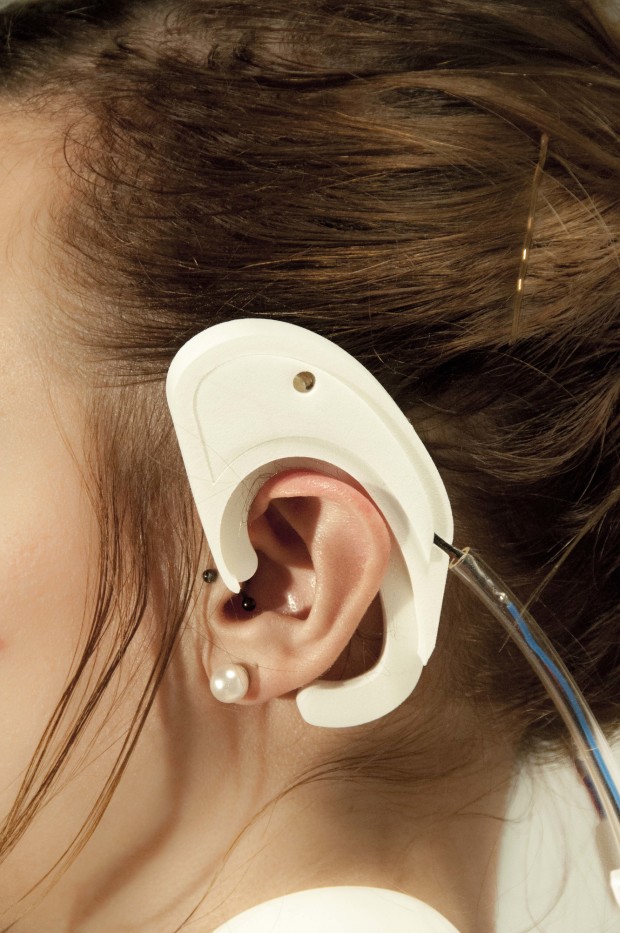 The design and packaging of each device is devised as a critique against commercially adorned technology that aims to provide consumers with benefit through the use of branding/marketing strategy and invasive media that breaks down the dichotomy between transparency of information sharing and human privacy. For more images on branding and design of SEED, click here
*This project is developed at The Bartlett's Interactive Architecture Lab under the supervision of Ruairi Glynn
---
More images of Reality Mediators
---